Family: Dave and his wife, Rindy, started GLC in 2009. They have three kids.
Fun Fact: Dave and Rindy have lived in 7 different cities and in 12 apartments/homes in their 24 years of marriage.
Guilty Pleasure: Peanut M&Ms
Big Dream: Shooting a 12+ point buck
Children's Ministry Pastor
Family: James and his wife, Kimi, have a blended family with seven children.
Fun Fact: James loves camping with his family and eating spicy foods. And, he speaks Spanish!
Guilty Pleasure: Ghost pepper beef jerky
Big Dream: Doing mission work in foreign countries
Finance & Operations Director
Family: Liesel and her husband, Doug, have three adult children whom they have moved out of the house with varying degrees of success.
Fun fact: She's a huge K-Pop concert fan.
Guilty Pleasure: Chocolate creamer with a splash of coffee
Big Dream: Traveling around the world in 90 days
Family: Carson has a sister who is nine years older than him and a brother who is thirteen years older than him, but Carson's parents PROMISE that he wasn't an "oops." He's not so sure he believes them.
Fun Fact: Carson backpacked through 12 countries in three months!
Guilty Pleasure: Pizza, unless it has vegetables on it
Big dream: To write, produce and direct a short film
Family: Married 15 years to his best friend. Together, they have 3 children, a wonderful daughter in-law, and 3 grandchildren.
Fun Fact: In another life he's a full-time personal stylist. He's also a dope DJ! (only in his head)
Guilty Pleasure: Buying sneakers
Big dream: Seeing local churches move together in unity
*Kirby is the lead pastor of OneVoice Church in Kenosha, but speaks at Great Lakes Church 8-10 times a year.
Family: Doug and his wife Kris have four adult children and six grandchildren.
Fun Fact: He grew up as the middle child in a family of 5.
Guilty Pleasure: Dark chocolate and nuts OR scrolling TikTok
Big dream: Learn a new language in an emersion program
Campus Experience Director
Family: Ashley and her husband, Andrew, have three children — Peyton, Wyatt and Quinn.
Fun Fact: She's the baby of seven & has 23 nieces and nephews!
Guilty Pleasure: A Dairy Queen chocolate chip cookie dough blizzard with extra cookie dough
Big Dream: Lots of babies, lots of beaches, and lots of love! (How blessed am I to have achieved this already?!)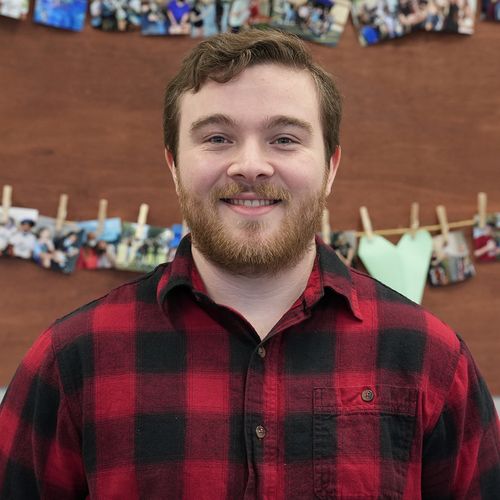 Family: Sam and his wife Robin both share a passion for youth ministry and love seeing young men and women live out a purpose-filled, Jesus-centered life
Fun Fact: In elementary school, Sam choreographed a dance to the Fresh Prince of Bel-Air theme song for a school talent show and got to ride in a limo to Cape Cod with his friend
Guilty Pleasure: Unhealthy amounts of Sushi
Big Dream: Have a student team that writes and records music.
Family: Jack is the oldest of three siblings, Meghan and Daniel, and the son to Laura and Jeff. Dating Callie for over a year, and both are striving to love God and love people, desiring to pursue Children's Ministry
Fun Fact: Jack was planning to study Astrophysics before changing career paths and going into Seminary
Guilty Pleasure: Buffalo Chicken Wings
Big Dream: Preach at Passion Conference
Family: Rex and his wife, Christalle, contributed to global over-population by having four great kids. They are Midwest transplants from Seattle.
Fun Fact: Rex spent time in his 20s as a volunteer firefighter and Washington State EMT.
Guilty Pleasure: Really big bowls of cereal
Big Dream: To be a chaplain for a Major League Baseball team (Milwaukee Brewers — Have you listened to any of those voicemails?)
Family: Married to Christen & have a goofy pup named Rudy.
Fun Fact: My first jobs were working as a lifeguard and swimming instructor.
Guilty Pleasure: Anything sweet. It's bad.
Big Dream: Retire in a big city
Groups Director & Campus Experience Director
Family: Married for 20 years to that Racine Campus pastor guy. Proud mom to three boys and a girl.
Fun Fact: First job was at an amusement/water park.
Guilty Pleasure: Reruns of "Friends" episodes and a good chocolate milkshake
Big Dream: More, more, and more travel
Racine Campus Kids Director
Family: Mother to two awesome kids, ages 18 and 11.
Fun Fact: She has an extensive collection of Mary Poppins memorabilia that she has been adding to since 1998.
Guilty Pleasure: Oreo Dream Cheesecake from The Cheesecake Factory. Ask anyone who knows her, she talks about it like its her child!
Big Dream: To adopt more children